(China Daily HK Edition 05/23/2008 page 4)
Artworks of international renown and local emergence met at the inaugural Hong Kong International Art Fair - ART HK 08 - which put the Hong Kong's art scene on the global stage and promoted cultural exchanges in the community.
The five-day gala was held from May 14 to 18 at the Hong Kong Convention and Exhibition Centre. Set to become an annual event, this year's fair showcased works by 850 artists, represented by over 100 of the world's leading contemporary and modern art galleries.
Key highlights included Francis Bacon's Man At A Washbasin 1989-1990, priced in the region of HK$275 million; and Andy Warhol's 1962 Avanti Cars, the artist's first silk-screen print on canvas, worth an estimated HK$29 million.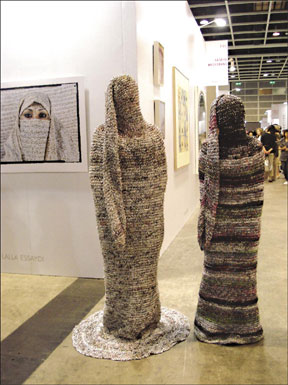 Body containers. Courtesy of Movana Chen
Works by regional artists from Japan, Korea, India, Pakistan, the mainland and Hong Kong also made a prominent presence at the fair, including Wang Qingsong's 2007 interpretation of the Olympic Games The Glory of Hope.
The fair highlighted Hong Kong's potential to become a cultural hub given its proximity to the mainland and other Asian countries, especially when China is currently the world's third largest art market, said fair director Magnus Renfrew.
Gilbert Lloyd of London-based Marlborough Fine Art Gallery, which brought works by Pablo Picasso, Francis Bacon and Andy Warhol to the fair, said he is confident of the city's long-term prospects as an art market.
"Hong Kong is a good place to meet collectors and we're hoping to find more Asian buyers," Lloyd concurred. "We want to develop the market here and we're prepared to invest money and time."
For local exhibitors, the fair was an excellent opportunity to introduce Asian art to the world. 10 Chancery Lane Gallery, for example, specifically put artists from Hong Kong and the mainland under the spotlight for foreign audience.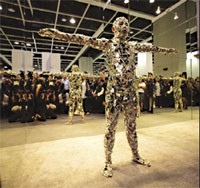 Mainland artist Li Wei's performance at ART HK 08. Courtesy of 10 Chancery Lane Gallery
Li Wei, whose work is a mixture of photography and performance art, led one of the fair's opening performances. In front of a large crowd, Li wriggled in an effort to shed hundred of mirror shards stuck to his body.
Local artist Simon Birch and Stanley Wong, known as "Anothermountainman" in the art circle, brought different vibrations to the fair: the former with intense canvas, the latter with images of quiet, abandoned landscapes.
"We've received great response from audience and the works are selling very well," noted the gallery's press officer Eliette Rosich. "Our artists are delighted to be included in this selection of works by world-class galleries and to meet the collectors."
Besides its commercial nature, the fair also aimed to cultivate local knowledge in art. "Hong Kong Conversations", a series of talks by a group of renowned collectors and artists, discussed contemporary cultural development in Asia and beyond.
Another satellite event, "Shifting Sites: Cultural Desire and the Museum", was a one-day conference that addressed the role of museum in the 21st century and featured speakers from top art institutions, such as Tate Modern, London.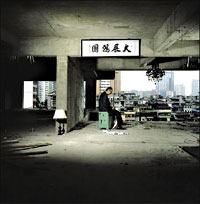 LanWei 5/ Big Business by Anothermountainman. Courtesy of 10 Chancery Lane Gallery
Alan Kwok, a 22-year-old art student who attended the conference, stated that it was a timely discussion for local audience, as the Hong Kong public is yet to reach a consensus over the West Kowloon Cultural District.
"There're many ways to promote art in Hong Kong and you have to wonder if museums are the answer," Kwok pinpointed. "As a young Hong Kong artist, I'd rather see the funding go to large-scale exhibitions of local art."
Such aspirations were reflected in a non-commercial exhibition - "Mirage". A play between illusion and imagination, the exhibition brings together large-scale installations, videos, sculptures and other works by five up-and-coming Hong Kong artists.
"I hope my work can be seen by art buyers so that I can develop my career," said one of the participating artists Wong Chung-yu, whose installation combines a fantasy world with real-time computer simulation.
The fair definitely opened new doors for Movana Chen, who drew audience and attention as she walked around the venue in her body container. The wearable art was knitted with shredded Shanghai Tang catalogues.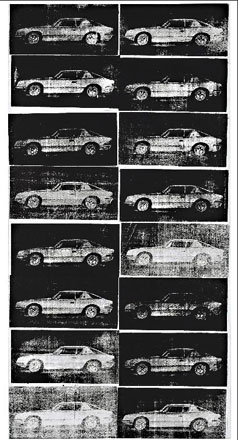 Avanti Cars by Andy Warhol. Courtesy of ART HK 08
"Everyone was excited by the performance," Chen said. "They asked a lot of questions and gave me very constructive feedback. Some of them said they'd follow up on my artwork in the future."
During her performance, Chen was intrigued by the barrier in her communication with the outside world. The audience believed Chen could not see them through the knitted dress, since they could not see her eyes as they spoke to her.
"In a way, my piece symbolizes the influx of external information that overwhelms individuals," Chen explained. "As messages from the outside enter through the top tube, the wearer is enclosed and can't break free from the container."
Chen's work won praises from the public as well as industry peers. While fellow artists inquired about possible collaborations, galleries from the mainland and other Asian cities approached Chen about prospective exhibitions.
"I'd like to extend my body container series into an on-going dialogue between Hong Kong and other cultures. Depending on the location, I will incorporate different languages into each exhibition," Chan explained.
"It should be what my artwork is about: despite language and cultural differences, different cultures can come together and transform into art, which the audience can understand and, in my case, feel it for themselves."