(China Daily HK Edition 09/23/2008 page4)



Book installation by Felix Bacolor. Photos courtesy of Osage gallery
FUTURAMANILA, an exhibition featuring 23 Filipino artists, is one of Osage Gallery's latest efforts in stimulating cross-cultural dialogue in the local art community.
Through the exhibition which showcases a variety of media including paintings, photography and mixed-media installations, the participating artists aim to explore the transformation of Manila in a societal context, as well as against the backdrop of globalization.
The artists often address social situations in their works while instilling their personal insights, their sense of displacement and reconnection.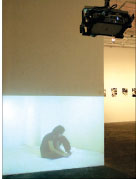 Escape by Bea Camacho.
Felix Bacolor revisits the act of book burning in his installation piece, which sees a number of burnt books neatly arranged. Bacolor first conceived the idea from a National Geographic program, and other literature on biblioclasm.
While the art piece seems to echo the cultural destruction that has prevailed at different times in history, Bacolor stated that it is not intended to be a social commentary. His main concern is to illuminate the concept of rebirth through death.
"In real life, burning book is far from pretty," Bacolor pinpointed. "The purpose of my work is to bring out the beauty in destruction through art. In a way, art changes our perspective on some of the horrors in this world."
Bacolor's piece was exhibited in Manila earlier this year, to eager response from an audience who embraced its shock value and its contradictory beauty. The artist, however, does not have the same level of expectations from the Hong Kong audience.
"It's my first visit to Hong Kong and I know rather little about this city, so I'm open to ideas from the local audience. In fact I'm surprised to have my first overseas show here, as Hong Kong was mainly a commercial hub in my mind," he said.
Fellow artist Bea Camacho has a more pronounced interest in the feedback from the Hong Kong audience.
Manila-born and US-educated, Camacho also lived in Hong Kong for three years as a child and has works previously exhibited in this town.
Camacho's work at the exhibition, entitled "Escape", is a video of her spinning herself into a white carpet in a room of icy white walls. The viewers are lured into the sense of isolation, through the repetitive, almost ritualistic performance.
"It dives into my personal experience of growing up alone, away from my family. It's also about memory, absence and silence. When it was shown in Manila, most people reacted to its repetition, quietness, and the duration of the video," Camacho explained.
As Manila boasts a small but passionate art community, Camacho hopes to learn more about Asian and Hong Kong art.
"I haven't been back in Hong Kong for years. It's a great opportunity for me to take part in this show," she added.
Yason Banal, whose works have appeared in museums in London, Tokyo and many other cities around the world, is more critical of the art scene in Hong Kong. Banal noted the absence of an underground art scene in particular.
"My main concern with art is experimentation. There's little of that in the works you can see in local art spaces. There're art centers, museums and galleries in this town, but the quality of the artworks isn't very consistent," Banal pointed out.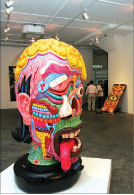 FUTURAMANILA at Osage Kwun Tong.
Banal said he believed FUTURAMANILA will reflect the myriad facets of Manila. It should offer a well-rounded, creative view on the city and the energy of its people to the Hong Kong public.
"It's an interesting view on the diverse sensibilities of Filipino artists. It is also nice to learn of the different identities of Filipinos other than being migrant workers," he contended. "It's exciting to see my fellow artists put such a show together."
Despite the promise of its title, FUTURAMANILA may yet leave questions of the city's future unanswered for its viewers. Art critic John Batten noted a lack of a curatorial statement in the show.
"It's more a survey show and I don't get a sense of future from the artists' works. The works are very good conceptual art though. They are a departure from what Filipino artists did a couple decades back," he said.
In Batten's views, the catch of FUTURAMANILA is that it brings to Hong Kong a group of Filipino artists with an international outlook. For the cross-cultural dialogue to take place, however, the local community needs to take an active part.
"There're a lot of young people in the audience, which is definitely a positive sign," Batten explained. "In general Hong Kong people are very open-minded about what they see. The key is to get them to the right place to see the art."
Helen Leung, a Hong Kong painter, concurred that FUTURAMANILA seems to lack a clear curatorial direction, even though the artworks are excellent. In her opinions, the gap somewhat weakens the cross-cultural dialogue in question.
"The facets of Manila you get to see in these works don't quite come together conceptually, or I don't see a collective idea," Leung elaborated. "It makes it a bit hard for the viewer to have a well thought-out response."
Vivian Poon, local painter and researcher, said she believed that the show introduces new perspectives to the Hong Kong audience, who may be unfamiliar with Asian art in general.
"It's not often that we get to see a large exhibition by Filipino or other Asian artists. I think the Hong Kong audience is definitely catching up on their knowledge and appreciation of art though," Poon said.
FUTURAMANILA runs from September 5 to October 6 at Osage Kwun Tong. More details are available at www.osagegallery.com.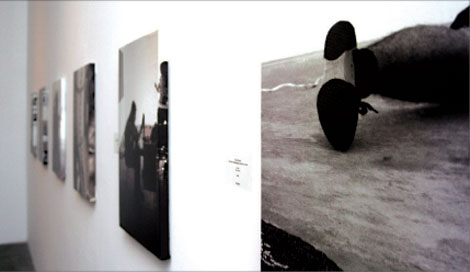 Photographs by Yason Banal.