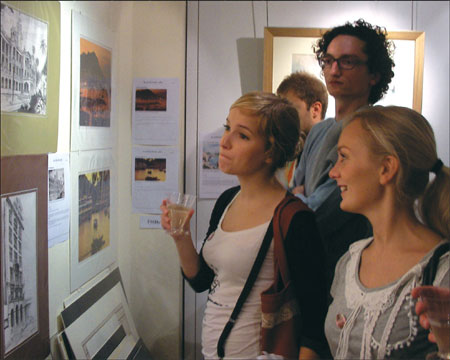 Up and lower left: Visitors examine works on display in two of the showrooms of ArtWalk 2009. China Daily
Fine art does not always mean highbrow attitudes or extravagant price tags. The premier charity art event in town, Hong Kong ArtWalk 2009, infused a genuine concern for the city's poverty-stricken with its showcase of creativity by local galleries on Wednesday.
Thriving in its ninth year, ArtWalk boasts a wide array of art displays, from visual arts exhibits in 65 galleries, videos, installations and banners on the streets, to performance by the Hong Kong Philharmonic Orchestra young musicians' quartet.
From 5 pm to midnight, participants with their ArtWalk badges and maps made their way through the art district along Central and Sheung Wan or breezed through the larger loft-style spaces through Causeway Bay to Wong Chuk Hang.
Caged spirits
The highlight of this year's ArtWalk was the Cage Home exhibition in Schoeni Art Gallery, organized by the Society for Community Organization (SoCO), a non-profit human rights organization in Hong Kong and benefiting charity of the event's ticket sale.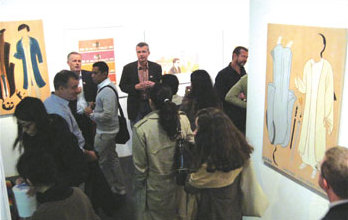 As SoCO director Ho Hei-wah remarked, the idea of having a real cage home as an exhibit was initiated by the ArtWalk organizer, who hoped to bring home to the public the reality of the underprivileged in Hong Kong.
"Last year we ran a photography exhibition of cage homes, which was pretty popular. This year we want to have the viewers experience the cage home for themselves, especially expatriate professionals who've never had a chance to see it in real life."
The cage home on display at Schoeni Art Gallery was originally situated in Tai Kok Tsui. Along with photographs of cage home residents, the exhibit exemplifies the life of nearly 100,000 people who live in cage homes, cubicles or small partitioned flats.
Each resident lives in between 15 to 24 square feet, which are typically infested with mice and fleas. They share a bathroom with up to 30 other residents in the same unit. The rent of these horrid spaces is about HK$30 per square foot.
The photographs on exhibit show glimpses of the people who live in these houses, including low-income sanitation workers, new immigrants, the lonely elderly, and those living on the fringe of society.
Tori Li, 21, who was born in Hong Kong but grew up in Canada, was deeply affected by the exhibition. "It's very alien and shocking to me. It's great to introduce these dark sides of Hong Kong to the public through such a large-scale art event."
As the exhibition runs until March 18, some ArtWalk participants plan to revisit the cage home with their peers.
"I'll bring my friends visiting from the States next week. It'd be an eye-opening experience," said Anna Hui, a 24-year-old university student.
The display of such sordid reality is particularly astonishing as it is situated along a strip of posh art galleries on Hollywood Road in Central, which opened their doors with food and drinks for the visitors.
Regular fare
While most ArtWalk enthusiasts were sipping wine and chatting with friends inside the galleries, Thomas Kwan, a human resources professional, had qualms about the quality of some of the exhibits.
"Many of these galleries are showing contemporary Chinese or Southeast Asian art, their usual 'stock'. It feels like a commercial gallery tour (more) than ArtWalk and that takes away the thrill for me somewhat."
Kenneth Chow, who started his route from Sheung Wan, shared the same impression.
"There're these artworks that I've seen in other curated shows before. It looks a bit like the galleries are 'recycling' and trying hard to sell the artworks through the event."
A number of local artists did find their places in this year's ArtWalk. The Polytechnic University's Bachelor of Arts in Applied and Media Arts Annual Exhibition, for instance, drew the audience's attention to a group of emerging young artists.
The exhibition, entitled 'Momentum', covers various individual and social topics through multi-media designs. An interactive website called 'Taste the food. Taste our family', is a platform where people share their family stories and the interior of their home life.
"It's a good opportunity for the public to see these students' artworks, to get an idea what our new generation of artists is doing," said Edmond Chu, a restaurant manager. "I might not have visited this exhibition if not for the ArtWalk."
Another delight was the photography exhibition by Leung Chi Ho. The works reflect on the conflict between the government branding of Hong Kong as 'Asia's World City' and the public perception of Hong Kong falling short of its label.
"It's funny to see our 'unaccomplished wishes' for Hong Kong as Asia's World City, like 'No grit', on street banners around Central," said Teresa Tsui, a young musician. "These works are ironic anecdotes about our town."
Local artist Wilson Shieh's 'Chow Yun Fat's Fitting Room' in Osage Soho was another exciting disruption. The works trace the metamorphosis of Hong Kong's superstar in his many movies and shed light on the shaping force of media on our culture.
"Chow Yun Fat as a star is someone we're very familiar with, though he's had little presence in Hong Kong art so far," Shieh said. "I wanted to transform the familiar into something new, something almost toy-like that departs from our usual perception of him as an icon."
The images, coming to life in color pencil drawings, demystify the actor's glamorous persona. The idea of a fitting room makes the viewers feel they can possess the superstar's image, as Hong Kong people like to claim him as a cultural ambassador for their town.
The show was popular with ArtWalk participants.
Cecilia Chow, a university student, thought it was particularly apt to choose Chow Yun Fat as the subject, since the actor is known to shed his superstar persona in public.
"He's down-to-earth and friendly, a star we can approach when we run into him on the streets," Chow concurred. "It's still a surprise when you see Chow Yun Fat 'stripped bare' in these artworks, especially for the expatriate audience, I guess."