(China Daily HK Edition 10/24/2009 page 7)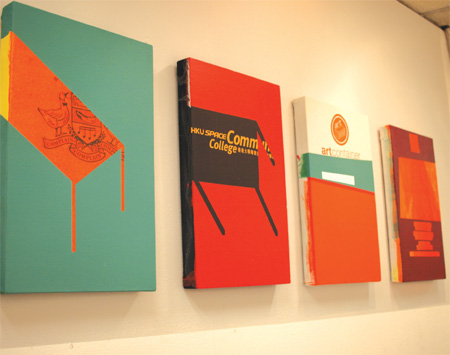 DTP007 series, Damon Tong, mixed media on canvas, 2009.
While the mention of contemporary visual arts sounds alien to most Hong Kong residents, a group of local artistes and curators has been working to reach a wider audience with their creations and thoughtful discussions.
The artists' work comes to fruition in October Contemporary (OC), the first and only large-scale event of contemporary visual arts in Hong Kong. Since its inception in 2007, OC has been dedicated to raising the profile of art practitioners and organizations among the public.
With the theme of "Now, or Never", this year's OC features participation from 21 local galleries and art spaces and collaboration with various art-related groups. The expanded efforts point to a more comprehensive program with exhibitions, talks and open forums, demonstrations and auctions.
As Yeung Yang, artistic director of OC 2009, remarked, many of the events are queries into the existence and value of art in Hong Kong. One example is "Insert Coin: Spanish contemporary art" at Para/Site, which questions the criteria by which art is evaluated in our town.
"Do we judge the value of an artwork by whether the artist can get a grant for it, or if the artist can auction it for money? What's the value of artists in Hong Kong?" Yang noted. "There're always the questions of whether Hong Kong can sustain a creative community, if 'creative clusters' do exist in this city."
In this vein, the introduction of partners to OC is an important move for illuminating the city's art ecology, Yang added. "Besides art production, this year we have partners such as Emergency Lab that work with websites and designs. This goes to show our art scene is multi-layered with diverse elements," he said.
The broader scope is crucial for both the artists and the public, since it sheds light on the role of the artists as organizers in the city's art circle. Beyond the creative process, artists are also keen on introducing their works to potential audience, to get feedback on their works through open dialogs.
"Most people feel they haven't seen much of the visual art scene in Hong Kong and the artists are doing their own thing in their hide-outs. It's a misconception," Yang explained. "With OC the artists take their initiatives to connect with the public, to show that we're professionals as well as creative individuals."
The connection is fostered by the recruitment of "Concerned Outsiders of Contemporary Art". Anyone who has an interest in contemporary art or OC program can apply to be one of the recruits, express personal views and meet the artists at show openings. The response has been very positive, said project manager Susie Law.
"We've got students, teachers and people from all walks of life chiming in. They write to tell us about their background, why they join, and their interests in art and galleries," she said. "It's a kind of interaction you don't get at regular exhibition openings, and it helps create a bigger pool of gallery visitors in the long run."
Such growth is instrumental to the development of contemporary art in Hong Kong, Yang noted. While the construction of the West Kowloon Cultural District has barely started, the city needs a larger population of art lovers to sustain the project. Publicity is often a thorny issue since resources are limited.
"Many art spaces in Hong Kong are small and don't have a 'business model', so money for publicity is always a problem," Yang elaborated. "With OC we're working to create an opening for the public to know a bit more about the art scene. It isn't just an event in October, but an on-going effort in the future."
Among this year's participating galleries, White Tube at the Hong Kong Arts Center is a community art space that encourages creativity of young local artists. For OC 2009 White Tube hosts "Something Behind", which showcases the latest mixed media works of Shek Chun-yin and Damon Tong.
In the words of curator Helen Ng, the substance in both artists' works remains hidden or unexplored, which constitutes the theme "something behind". "For Damon, meaning lies hidden in the works and it's for the audience to decipher, whereas Shek believed his true themes are yet to come," Ng said.
In his mixed media on canvas, Tong re-creates impressions of a personal item like a T-shirt, someone else's possessions or an object in geometrical shapes and colors. The works are manifestations of a creative process in reverse, since Tong paints with no pre-conceived ideas or themes in mind.
"My concern isn't about what to express; as an artist, I believed it's contrived to set out to say something. Any interpretation should come last," Tong contended. "For me, creation is a process of prying into my own thinking, to see how I've come to the point I'm at. It's not necessarily self-understanding, but it's a search."
Shek shares the same sentiments of exploration in his series called "Parasitoids", through which he examines the intricate relationship between humans and nature. Nature is re-created with artificial materials and colors, which alludes to the desire for control in humans over their external surroundings.
"Throughout history, humans have always looked for ways to surpass the limits of our lives and living environments. Medicine, construction and other material gains are some examples," Shek said. "By mimicking nature in my works, I pose an alternative voice to this constant destruction."
More details of October Contemporary are available on www.oc.org.hk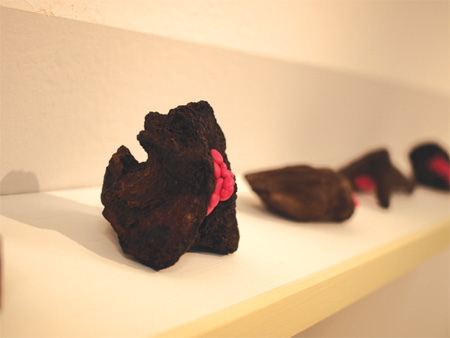 Parasitoids, Shek Chun Yin, mixed media, 2009. Photos courtesy of the artists